Volunteer


Lunch Program


---
Check it out - A sneak peek of our prize baskets is up on our website
---
The 2016-2017 Brooklake Yearbook is now on sale online for $15 through 4/21/16. Please visit http://online-pay.memorybook.com/parent. School code is 82575. Any questions, please contact Gina Cicarelli at gcicarelli@icloud.com.
---
---
Our biggest event of the year is quickly approaching! Don't forget to buy your tickets - help support our schools while also enjoying a fun evening out!
---
For the 2017 - 2018 school year, the PTA Board of Directors anticipates having the following positions open:
PTA President
VP, Briarwood (1)
VP, Ridgedale (1)
Food Treasurer
PTA President
Lead organization towards specific goals chosen by its members in accordance to bylaws
Prepare master calendar for school year
Oversee all committees and fill any chair vacancies on annual basis
Plan general and executive PTA meetings and its agendas throughout school year
Spearhead district grants to each of the schools in consultation with school administration
Oversee committee budgets and fiscal health of organization
Approve and oversee all PTA communications, i.e. website, Facebook page, weekly newsletters, committee reports and flyers
Spearhead recruitment of volunteers across all PTA committees, including class parents on annual basis
Co-Signatory on all PTA check disbursements
**Without a president, there is no PTA
Food Treasurer
Manages PTA Lunch Program. This program is contracted with Michele's Catering through 2019 to cook and serve at all three district schools
Develop each session's menus with Michelle and input into myfoodays; Prepare calendars each session with menu choices including ordering dates for the school year
Run the "Treasurer's Report" at the end of each session, request payment from Myfooddays, and communicate amount due to PTA Treasurer to pay the invoice
Run Briarwood lunch reports weekly and email to Briarwood administration
Communicate all lunch related information, i.e. ordering date reminders, menu changes to parents via myfooddaysemail system and PTA weekly newsletters
Field all lunch correspondence and concerns from parents, school staff, or Michelle
Communicate with myfoodays staff regarding system issues, questions, or requests
Occasionally visit schools during lunches to check in and observe
VP, Briarwood
Communicate various PTA/school blasts either by email (to class moms) or flyer
Meet and collaborate with principal to coordinate activities
Create budget for each school year for PTA expenditures
Attendance at monthly PTA board meetings and Superintendent meetings
Plan and run various events such as Kindergarten Tears or Cheers, Family fun nights, Jumpathon, Second Grade Step Up Day, EOY DJ Dance Party
Run various tee shirt drives (Roadrunner, Field Day and Step Up Day)
Field and answer questions from parents PTA or school related
VP, RMS
Attendance at all PTA meetings
Create budget each school year for PTA expenditures
Meet with Principal during the year to plan for upcoming events
Create various communications via emails or flyers
Plan and coordinate school events such as school dances, National Education Week, end of PARCC testing celebration, RMS Picnic/Field Day and 8th Grade Pool Day.
The positions also require attendance at PTA general meetings, PTA Board of Directors meetings and monthly Superintendent meetings. The positions are typically 3 year terms.
If you would like additional information about any of these positions, please contact Kelly Ewing at ewing517@aol.com. We are asking that all interested parties submit their names in by April 21st.
---
The Florham Park PTA is always looking to improve our organization and better serve the needs of our school community. In order to accomplish this, we are seeking feedback through the following quick and easy survey. We value and thank you for your input!
---
It's been a mild winter…if you have spring cleaning on your mind….
Ridgedale Middle School's
8th Grade Dance Committee
is sponsoring Its 2nd Annual Spring Cleaning Donation Drive
PLEASE DONATE YOUR UNWANTED ITEMS!
DATE: FRIDAY, MARCH 31ST, 2017
TIME: 7-9AM & 2-5PM
LOCATION: RIDGEDALE MIDDLE SCHOOL – NEAR THE GYM
We are collecting items such as clothes, shoes, belts, ties, scarves, handbags, hats, linens, towels, tablecloths, bedding, curtains, stuffed animals, books, small appliances and children's toys.
Excluded items: No school textbooks, No furniture, No ride on toys, No microwaves please.
Everything collected will be used by people in need. The Ridgedale Middle School 8th Grade Dance Committee will receive a donation for the total poundage collected. Please feel free to share this with your family and friends!
Please place donated items in boxes or well-tied durable plastic bags.
If you have any questions, please contact Mary Bill at marypazool@earthlink.net
---
Michelle's Catering is currently accepting applications for Part Time employees in the Florham Park School lunch program.
3-5 weekdays 9:00am-1:00pm NO WEEKENDS/NO HOLIDAYS
Hourly wage based on experience-Starting at $9.50 per Hour
1. Maintain clean kitchen work areas, restaurant equipment, utensils and floors
2. Wash pots, pans and kitchen tools by hand as needed
3. Be able to cook hot fresh meals
4. Work closely with current team in a fast paced environment
5. Serve lunch to the students
When submitting, please put FP Job Posting in the Subject line.
md@thepartycouture.com
---
The Florham Park PTA is already looking forward to next year and needs your assistance in improving our children's school experiences with all of the wonderful things that we do! Direct links to our volunteer signups can be found at
Volunteer Opportunities 2016-2017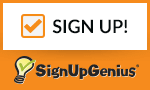 You may also visit our website to learn about various committees and positions at http://fpkpta.org/p_vop.html
Any questions please contact Stephanie Rauschenberger at stephcrescio@hotmail.com.
We look forward to hearing from you and to having a great 2016-2017 year. Thank you for your continued support!
---